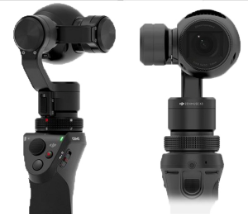 The DJI Osmo with Zemuse X3 camera/gimbal brings the benefits of shooting 4K to a handheld form factor. The camera features a 1/2.3 CMOS sensor that enables up to full 4K video recording at 24p as well as 12mp photo capabilities. There is a wi-fi link that allows the Osmo to be tethered to a mobile device running the DJI GO app. with a range of 85 feet.
GPS has several GoPro HD Hero 3+ Black Edition cameras which feature a 12mp sensor, a 6 element lens, video mode, stills mode, a continuous photoburst mode, timelapse capabilities, and built-in wi-fi. The cameras come with an underwater housing, a frame, batteries, various rigs and suction cup mounts.
The DJI Osmo Mobile 2 smartphone gimble allows you to mount any smartphone up to 3.3" wide and lets you to capture smooth, moving, dynamic handheld shots. Simply sync your phone up to the DJI GO app for a comprehensive workflow consisting of multiple shooting modes and functions.